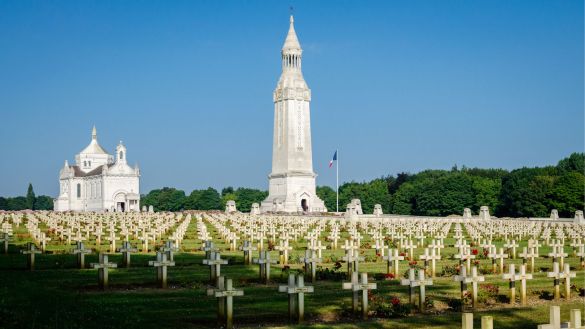 French Cemetery and Memorial
Notre-Dame-de-Lorette is located on a hill of Artois fifteen kilometers from the Hotel de l'Univers in Arras, where there were fighting between October 1914 and September 1915.
The cemetery covers 13 hectares and has 19,000 crosses. A basilica was erected to pay tribute to French soldiers who died during the Great War.
In addition to the memorial and cemetery, a living museum will present more than 2,000 collector's items, such as old military uniforms, or reconstructions of underground shelters.
Outside, you can also visit the trenches. Next to the basilica, you will have a view of the Northern Mining Basin, where you can see the twin heaps of Loos in good weather.
Useful information
Notre-Dame-de-Lorette is accessible:
every day from 01/02 to 15/12
09:00 to 20:00
off-season by appointment (tel: +33 (0) 3 21 45 15 80)